PRODUCT SPECIFICATION
 Provides a comfortable fit by tightening the laces from toe to ankle uniformly.
Color: Black / Red, Turquoise/Grey
Upper:

 

Synthetic Leather
Midsole:  Synthetic resin
Outsole:

 

Rubber
TOKYO, Japan – With the concept to breed footwork performance through optimal fit, the POWER CUSHION 88 DIAL will receive updates in its tech in preparation for a rolling global release kicking off at the end of January 2022.
The 88 DIAL takes inspiration from the POWER CUSHION INFINITY by focusing on optimizing the shoe's fit with the application of the BOA© Fit System. A better connection with the shoe allows a better connection with the court – simply rotate the single-dial BOA© Fit System and intricately apply even pressure on the foot for a precise and balanced fit.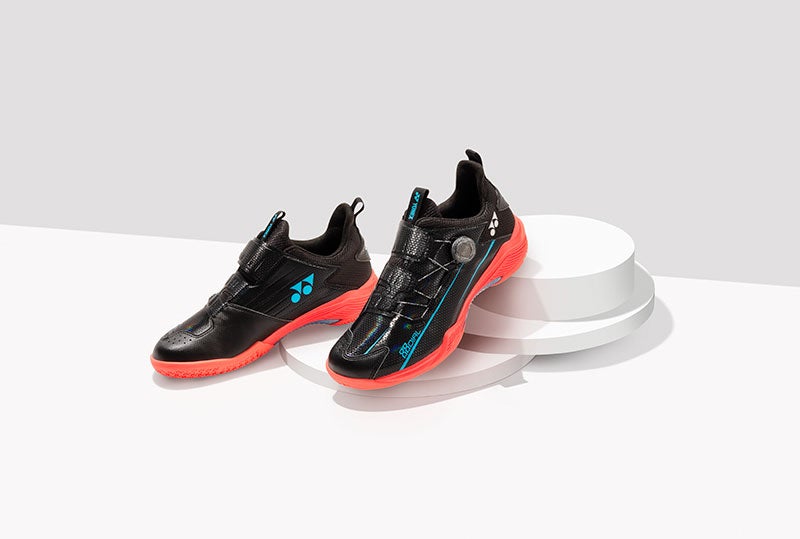 Hosting the BOA© Fit System is an inner bootie construct with an overwrap built of the new Durable Skin Light, a thin yet sturdy thermo-compressed film. With the introduction of this new material, the pattern of the wrap is expanded, tucking the foot in for a more comfortable yet secure experience from the inner arch to the top of the foot. The Radial Blade Sole, which made its debut on the stability-driven ECLIPSION in spring 2021, is applied to improve traction between the shoe and the court. This proprietary sole now brings a 3%* increase in traction to the 88 DIAL.
*Increase from the Hexa Grip Sole; tested by Yonex
POWER CUSHION+ in the heel plays a key role in converting each step into energy for the next move. Compared to standard EVA materials, the POWER CUSHION+ takes the impact of a step and absorbs 28% more shock while kicking back 62% more repulsion for the next step. This protects your body from strong impacts while propelling you forward for longer.
The POWER CUSHION 88 DIAL will arrive in multiple colorways – the Black/Red and Turquoise/Grey for 3E, and Matte White for 4E wide fit.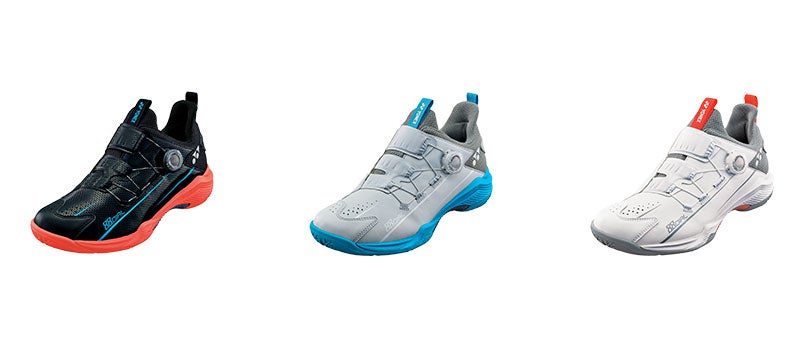 INNOVATION
BOA© Fit System + Durable Skin Light
The BOA© Fit System allows you to tighten the shoes evenly with a single action, making them easy to put on and take off. The new upper design holds the ankle from the inner arch to the top of the foot, creating a more enveloping fit.

Durable Skin Light is a flexible yet strong film that is thermo-compressed. It is applied onto the wrap to provide an improved, secure fit with soft comfort.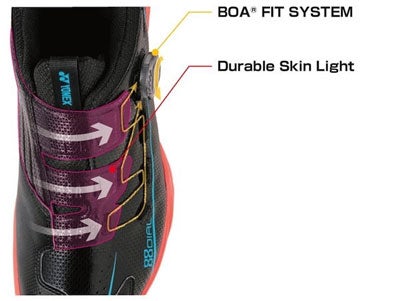 RADIAL BLADE SOLE
The Radial Blade Sole is a sole with a windmill-like pattern. This sole allows subtle movement at impact in the blade portion of the pattern, generating stronger grip with the court surface. With an approximately 3%* increase in grip compared to the Hexa Grip Sole, the Radial Blade Sole supports quick dashes and sudden stops.
*Tested by Yonex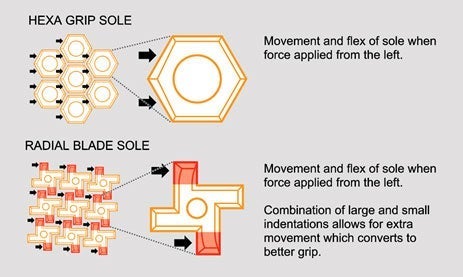 POWER CUSHION+
The 88 DIAL places POWER CUSHION+ in the heel to absorb shock associated with the footwork of badminton. By improving shock absorption, the POWER CUSHION+ technology transforms impact into energy. A 28%* increase in shock absorption and a 62%** increase in repulsion when compared to the standard EVA materials.
*Measured by the Japan Vehicle Inspection Association
**According to research by the Boken Quality Evaluation Institute, JIS Law is applied