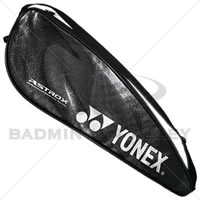 Yonex Astrox 100 badminton racket is targeted at advanced players and designed to deliver power from hit after hit. The innovative Rotational Generator System, introduced through the ASTROX series earlier, has been further enhanced for the ASTROX 100. More precise weight distribution throughout the grip end, frame top and the joint increases the rotational power. These enhancements ensure the momentum for quicker consecutive shots. Namd, which produces more flex and a faster snap-back, is used throughout the frame and shaft, unleashing dramatic steep power. The synergy created from the Rotational Generator System enables continuous powerful attacks.
Similar to the ASTROX 99, the ASTROX 100 ZZ (AX100ZZ) has utilized next-generation graphite Namd in the entire body, which results in a large increase in the snap-back speed of the shaft, producing greater smash speeds and doubling contact time with the shuttle, resulting in an explosive shot as the racket returns from flexed to straight at the end of the swing. Additionally, the Energy Boost Cap shape is designed to encourage even more flex in the shaft, further benefiting from the effects of the Namd graphite. The series trademark technology, Rotational Generator System, which contributes to a smooth transition from shot to shot also helps the player maximize the effects of the entire Namd body.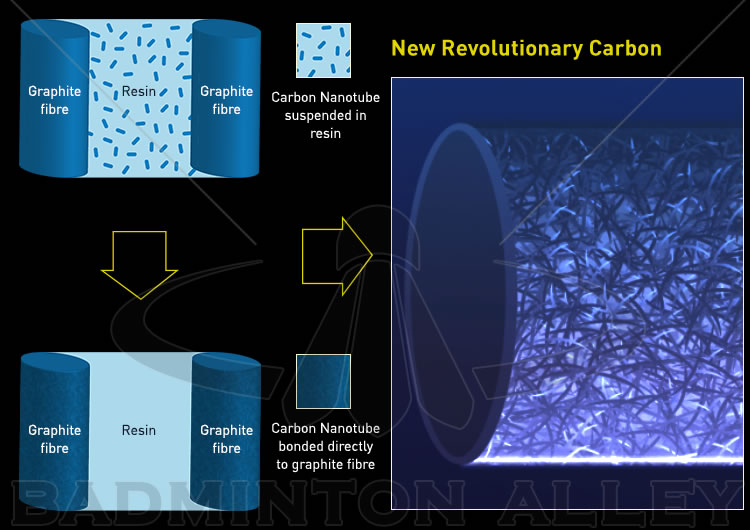 In high-performance rackets, it is common to combine nanomaterials with resin that connects graphite fibers, but in Namd, nanomaterials adhere directly to the graphite fibers and the degree of adhesion between graphite fibers and resin is greatly increased. This major improvement produces a shaft that flexes and stores energy, delivering explosive force on impact with the shuttle.
From the initial movement of the player to the impact, the new dimension graphite is difficult to harden, and the shaft extends and accumulates energy due to the speed of the fast swing. Since the follow-through of the swing is smaller after direct impact with the shuttle, the swing speed drops and the new dimension graphite regains hardness and strengthens the resilience of the shaft, allowing the energy to explode rapidly before returning to its original state.
---
By applying the counterbalance theory, weight is distributed throughout the grip end, frame top and the joint for maximum control. The transition to the next shot can be performed smoothly with rapid succession.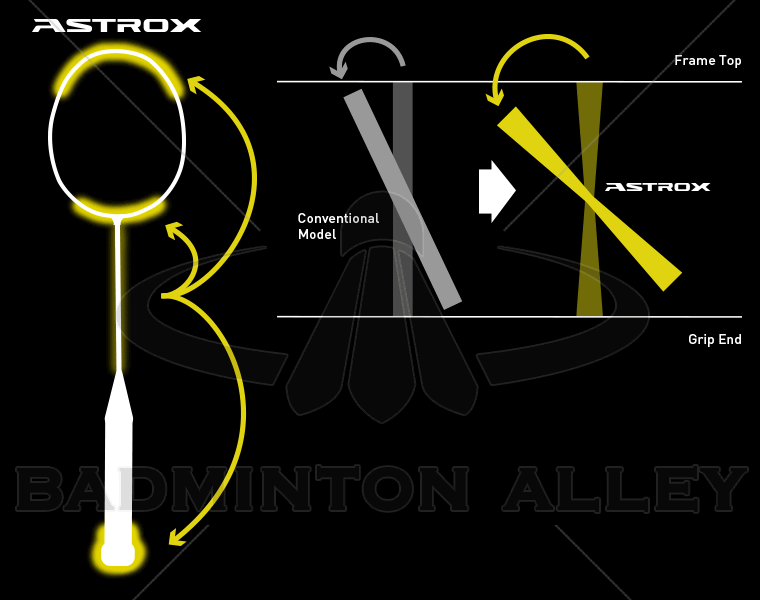 ---
Used in high-end extra-stiff Yonex badminton rackets, BLACK MICRO CORE is a stiff, high-density vibration-dampening material equipped into the upper part of the VOLTRIC FB and ASTROX 100 ZZ frames letting players hit with solid feeling and power.